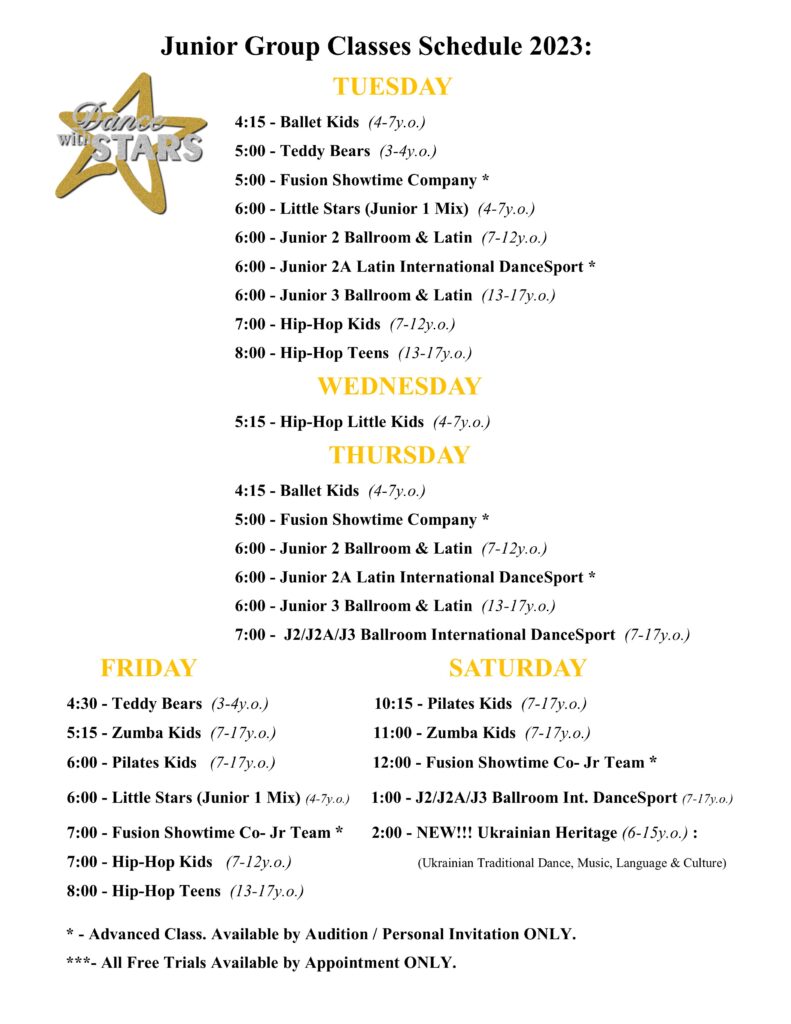 Teddy Bears Class:

Tuesday 5pm / Friday 4:30 pm.
If your kiddos are 3-4 y.o. and they are jiggling around with music beats- it's a time to bring them to us! Not just waiting on their older siblings at their Little Stars and Junior classes, but to get an introduction to the World of Dance in a most interesting, fun, and safe way!
DWS Academy starts the new season with an opening of new classes. TEDDY BEARS Class welcomes very little munchkins to become our students and to learn & discover about their body's actions, while playing fun dance games, stretching, and marching with fun music.
---
Little Stars Class (J 1 Mix):

Tuesday / Friday 6 pm.
Boys and girls of ages 5-7 will be immersed in the world of Dance. The class has a program which was specially developed for these ages. It is focused mostly on basic elements of Ballroom & Latin movements with the learning of balance, foot placement, coordination, hip & leg actions, and rhythm. Warming up at the beginning of each lesson, stretching, very basic elements of other dance styles like Ballet, Jazz, and Hip-Hop are also included in the program. Of course, our Little Stars learn fun and fancy show dances, which you can enjoy at our Studio Shows, Performances & Parties!
We use our huge experience to keep our lessons fun and interesting and at the same time teach our youngest students to be very focused, disciplined, and motivated.
---
Beginner Stars Latin & Ballroom (J 2)/ Rising Stars Latin & Ballroom (J 2-A):

Tuesday / Thursday 6 pm.
J-2 is the best class for boys and girls ages 7-12 who want to learn Latin & Ballroom dancing! Here they will learn dances like the Cha Cha, Samba, Rumba, Paso Doble, Jive, Slow Waltz, Tango, Viennese Waltz, Slow Fox, and Quickstep.
Our lessons are filled in full with new interesting knowledge and training. Fancy showcases and fun parties keep our kiddos interested and motivated always!
---
Teens Stars Latin and Ballroom (J-3):

Tuesday / Thursday 6 pm.
If you want to learn how to dance like on DANCING WITH THE STARS, this is the place for you! We offer all different levels of teen classes from beginners to advanced, and we want YOU to be a part of our teen program! Our teens perform in Showcases, have dance parties, and even participate in Dance Competitions! If you are interested in dancing please call the studio today! Ages 13-17.
---
Ballet Class:

Tuesday / Thursday 4:15 pm.
Welcome to our Ballet class for beginners. Take your very first class with the best Ballet specialist at DWS Academy today. The curriculum was created to encourage age-appropriate creativity, musicality, and physicality. Your child will dance and have fun with an emphasis on the foundations of ballet. Dancers will be brought through creative movement and basic ballet steps and more! There is no better way to learn!
---
Hip Hop Classes:

Little Kids – Wednesday 5:15 pm;

Kids – Tuesday / Friday 7 pm;

Teens – Tuesday / Friday 8 pm.
You're at a dance battle, your favorite song comes on but your so-called sick moves are a little lacking. Don't worry, come to DWS Academy. Our classes are filled with fun and excitement along with knowledge about Hip-Hop. We will teach you trending/OG basic and advance movements to help you stand out on the dance floor.
All skill levels welcomed. Beginner, Intermediate & Advanced. Ages: 4-6 (Little Kids Class), 7-12 (Kids Class), 13-17 (Teens Class).
---
Pilates Kids:

Friday 6 pm / Saturday 10:15 am;
Designed to build muscle strength, flexibility and endurance, Pilates is an exercise method in which you need little more than your body and a mat. Kids of all ages and fitness/dance levels can benefit from Pilates.
To be sure your child is performing the exercises safely and effectively to avoid injury, it's much better to do it in the class under professional instructor supervision than by watching videos at home.
Here are the goals & benefits of Pilates:
– Tone & Strengthen Muscles;
– Increase Flexibility & Bone Density;
– Improve Posture & Core Strength;
– Develop Mental Focus;
– Strengthen Mind & Body
---
Zumba Kids:

Friday 5:15 pm / Saturday 11 am;
Zumba Kids Classes are designed to combine fun workout movement, music, community and a healthy lifestyle for children. These fitness classes are rocking, high-energy dance parties packed with specially choreographed, kid-friendly routines and all the music kids love, like hip-hop, disco, reggaetón, cumbia and more. The program inspires kids to express themselves through movement and play while effectively improving their overall health and well-being. Kids love it because it's on the cutting edge and fun. Parents love it because of the effects it has on kids: increasing focus, building self-confidence, boosting metabolism, creating nutritional awareness and enhancing coordination.
---
Fusion Showtime & Fusion Junior Katy Dance Companies:

Tuesday / Thursday 5 pm (Fusion Showtime Co: 12-17 y.o.) – by audition or personal invitation Only;

Friday 7 pm / Saturday 12 pm (Fusion Junior Co: 7-12 y.o.) – by audition or personal invitation Only;
Here are 2 Sport Competitive groups of very talented young dancers. These girls and boys have extraordinary talents and abilities to dance. The companies travel in Katy, H-town, and all over Texas and the United States performing their Showcases while wearing their Glitzy costumes, participating in lots of Dance Competitions, Charity Events, Town Celebrations, etc.
**These classes can only be attended if you pass an audition at audition times.**
Next coming audition is scheduled:
-to Fusion Jr. Company- Friday, December 16th, at 7pm. Call at 281-646-1901 to Register.
---
NEW!!! Ukrainian Heritage Class:
Saturday 2 pm;
This very new class is designed for Ukrainian Kids in the United States, to help them to keep Ukrainian Heritage by learning Ukrainian Traditional Dance and Music, speaking Ukrainian Language, singing traditional songs, and learning Ukrainian culture and National traditions in a most fun and interesting way.
Kids of any nationalities, who are interested in learning about Ukraine and it's beautiful traditions, are welcome to the Class!
Welcoming Kids of ages 6-15. All Ukrainian Refugees of these ages get 50% discount on this class tuition (Must prove their status by showing U4U approved form).
---
Teens Silver Stars (J 3 Sport):

Tuesday / Thursday 4 pm – by personal invitation Only.
This class shows our advanced teens the techniques, styling, and what it takes for them to be the best dancer they can be. Ages 13-17. The class is our most advanced junior class. It is for competitive junior couples only. It teaches them the dynamic movements of the Latin and Standard dances that are needed to win the Gold.
**This class is available by invitation only, you must have Latin and Ballroom Dance experience**
---
Advanced Latin Technique:
Saturday 11 am – by personal invitation Only.
This class is designed to give you the EDGE you are looking for on the dance floor. You will learn styling, technique, and musicality from our highly recognized coaches. you will come out of the class with knowledge and ability like never before.
**This class is available by invitation only, you must have Latin & Ballroom Dance experience**
---
Break Dance Kids/Teens Classes:

*Class is on hold, call for the details.
B-boying, B-girling, Breaking, Rocking aka Break Dance Classes. In our Kids and Teens Classes, the goal is to learn the foundation of our dance as well as work your way up the skill levels to achieve the level of a "B"reak BOY & "B"reak GIRL . They will be introduced to the real elements of our subculture, its dance & knowledge while creating peace unity and fun. They will learn the history and elements of the dance:
TOPROCK, GET DOWN DROPS, FOOTWORK, FLOORWORK, DOWNROCK, BACKROCKING, THREADING, FREEZES, POWER MOVES, SPINS, ACROBATIC TUMBLING etc.
All ages and skill levels welcomed. Beginner, Intermediate & Advanced.
---