Welcome to Dance With Stars Academy!
WELCOME and thank you so much for entrusting the Dance With Stars- Junior Academy with your Kids and Teens dance education. Our studio was established on July 2007. As a Professional Ballroom & Latin Studio, we have been one of the largest studio in the Katy area and the city of Houston. Since that time DWS Academy has produced a wealth of amateur and professional dancers, who are the living embodiment of greatness, style, and grace. We have had the honor & privilege of improving the lives of our students, staff, and everyone who is associated with our company, through the joy of lifelong dancing!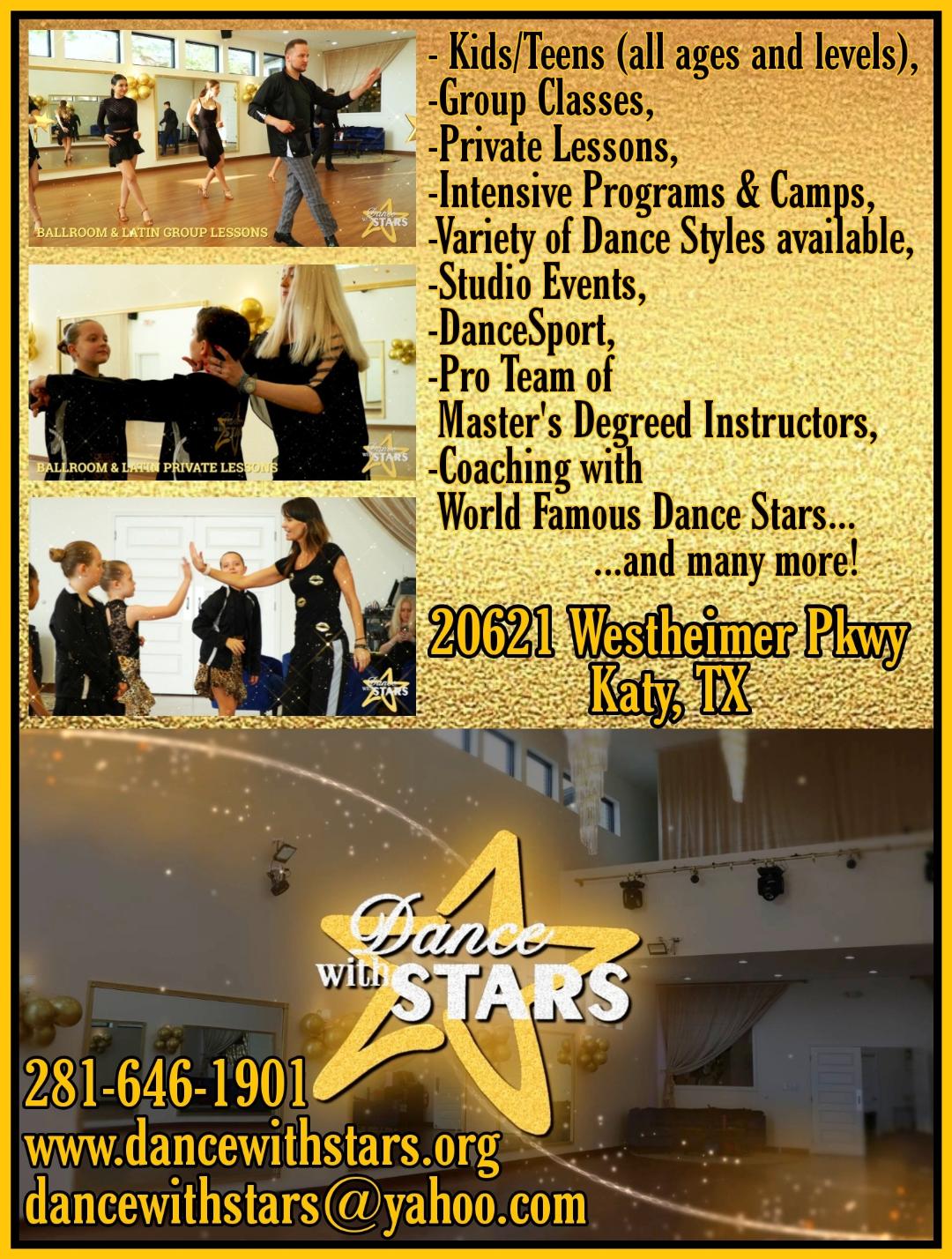 Dance With Stars- Junior Academy is like no other dance studio. It is a unique Dance center for children and youth only. Your children will find many profits, many benefits, and many enhancements to life learning to dance whether it is introduced as an avocation, pastime, or hobby. They will find an enhanced appreciation of music and its rhythms; as well as will experience an increased sense of balance, and a more fluid movement in walking and running. Whether dancing competitively, or simply for fun, we believe that children learning dance in a healthy, creative environment expands imaginations, builds self-esteem, bolsters self-confidence, promotes self-discipline, and establishes a sense of teamwork and cooperation.
-It teaches teamwork between boys and girls
-It teaches discipline through practice and routines
-It teaches understanding of music's rhythm and tempo
-It teaches coordinated movement individually and with a partner
-It teaches poise, balance, strength and confidence
-It teaches good dress and manners
-It teaches a skill and ability that will be very useful throughout life, and many many more…
Invest in Your Child's Future with the Gift of Dance!!!
Learn Fast, Achieve More
Our dance curriculum includes a tiered program of regularly-scheduled Private Lessons and Group Classes, plus Social Parties and Shows to ensure that your kids learn as much as possible, in the shortest amount of time, with the most retention, and the most FUN! Our dance instructors' repertoire covers the full range of multiple dance styles – International Style: Latin & Ballroom, American Style: Rhythm & Smooth, Hip-Hop, Ballet, Belly Dance, Country & Western, Latin Social (Salsa, Bachata etc). Even Exhibition and Theater Arts dances, Break Dance, National Traditional World Cultural Dances etc. Created for both social & sport competitive dancers, our proprietary dance instruction program ensures your kids will be on their way to confident dancing by the end of their very first lesson!
Our Dance Lessons are FUN!
The teaching philosophy at our studio is simple and straightforward: learning how to dance is always fun! We work with Kids & Teens of all ages (2.5 to 17y.o.) and abilities, and help them realize their dancing goals in a friendly and inspirational atmosphere. Whether you are looking for a new hobby or way to connect with your partner, want to improve your social life, or are taking your dancing skills to the next level, our teaching methods will result in faster learning rates and higher levels of achievement. Our highly educated and experienced instructors provide the highest level of dance technique, movements & choreography in an easy to learn format with a twist of fun and high professionalism – regardless of your physical attributes or comprehension. And at DWS Academy, you'll always find a warm and welcoming community that will inspire you to reach new heights, feel and look confident, and have fun doing it!
Our Talented Dance Instructors
Dance With Stars Academy instructors are gifted dance educators who hail from all over the world. Most have Fine Arts Master's degrees and are actively-competing, award-winning professional dancers. Our dance instructors complete the rigorous work required to become certified. This program ensures a consistent, high-level of dance instruction because it teaches in a way that people naturally learn! Our proprietary dance curriculum is also continuously reviewed by world-famous former dance champions and registered judges on the National and International Dance Board, to ensure only the finest, most up-to-date programs for our students.
Exciting, Glamorous Events & Dance Competitions
DWS Academy offers a variety of fun local events to make your dance experience exciting and rewarding! Guest Parties, Showcases, Spotlights, Community Outreach Events, special Coaching Sessions and off-site Group Outings encourage social interaction and help you apply what you're learning. We participate many Regional, National and International Amateur, Pro/Am and Professional Dance Competitions, give you inspiring opportunities to compete, travel and hone your dancing skills in supportive and exciting environments.
Monitor Your Progress
The DWS Trophy System is an easy way for you to monitor your progress & stay motivated, while you enjoy dancing. Our Beginner and Social Foundation Programs teach newer students the step patterns and techniques needed to move around the dance floor. Students then move on to Bronze, which will enable you to comfortably and confidently dance on any sized dance floor, to any music, with any partner. From there, you can hone your skills and talents within the Silver level, and then all the way to the Gold!
Get Started Today, with a DWS-Jr. Academy Introductory Private Lesson Offer, or with FREE Tryout Session of any Group Class of your choice!